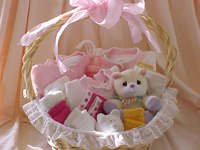 We sell unique high quality gift baskets, baby clothing, and accessories.
Gift baskets for baby and mother
Any mother to be would loveone of our special gift baskets. Browse through our catalog for that perfect ...
Baby clothing, soft, warm and ooh so cute.
Dress up any baby in high quality cotton knitted clothes. Perfect for keeping them warm and looking ...